If I'm training for a long race, this means I'm tired a lot of the time. Especially now, I'm conscious of the need for healthy nutritious food to keep me going and to help with recovery. Minestrone soup is a good balance of carbs and protein and with vegetables thrown in for good measure.
What I love about making a big batch of minestrone is it can last for a few days and/or can be frozen. If freezing, you'll want to leave out any of the last minutes additions like pasta and cook this fresh when you reheat the soup.
This one is made with borlotti beans which have a rich earthy texture and will make this feel like a meal. Another good option are cannellini beans. It also has a bit of a kick with some chilli added in.
Serves 4 to 6 depending on portion size.
1 tbsp of olive or vegetable oil
2 white onions, finely chopped
Oregano – a good couple of pinches
4 garlic cloves, finely chopped or crushed
Optional – ½ tsp of hot chilli powder for a bit of a kick
Optional – pinch of sugar
Vegetable stock – I use powder then add 500mls of water
4 sticks of celery, finely chopped
4 carrots, finely chopped
250 g of dried borlotti beans or 2 tins with the beans rinsed and drained.
2 tins chopped or crushed tomatoes
A good dollop of tomato paste
250g of cavolo nero – washed and drained. Destem and shred. Cavolo nero can be tricky to find for much of the year – cabbage or kale are good alternatives.
Pasta – I find penne works well but feel free to use whatever you have in the cupboard.
If using dried beans, soak for at least 4 hours in water. Rinse and then put in a large saucepan, covering with water. Bring to boil and reduce the heat and let simmer until beans almost tender – about 30 minutes. Add in a couple of generous pinches of salt, let simmer for another 5 minutes. Take off heat and drain. Set to one side.
In a large saucepan, heat the oil and add in the chopped onion. Cook for a minute or so then add in the celery and garlic, cooking until the onion is translucent.
Add in the oregano and a little chilli if you want a little kick. Stir.
Add in carrots, beans and tomatoes.
Top up with 500ml of vegetable stock, add tomato paste.
Cook the pasta as per instructions, drain and run under cold water. Set to one side.
Bring to the boil then reduce heat and let simmer for 30 mins or so.
If the flavour is a little sharp, add in a pinch of sugar as it will reduce the acidity of the tomato.
Add in the cavolo nero or whatever greens you have one hand and chopped parsley. Simmer for another 5 minutes.
Throw in the cooked pasta.
Serve by itself or topped with vegetarian parmesan. It's also great served with fresh bread and/or a salad.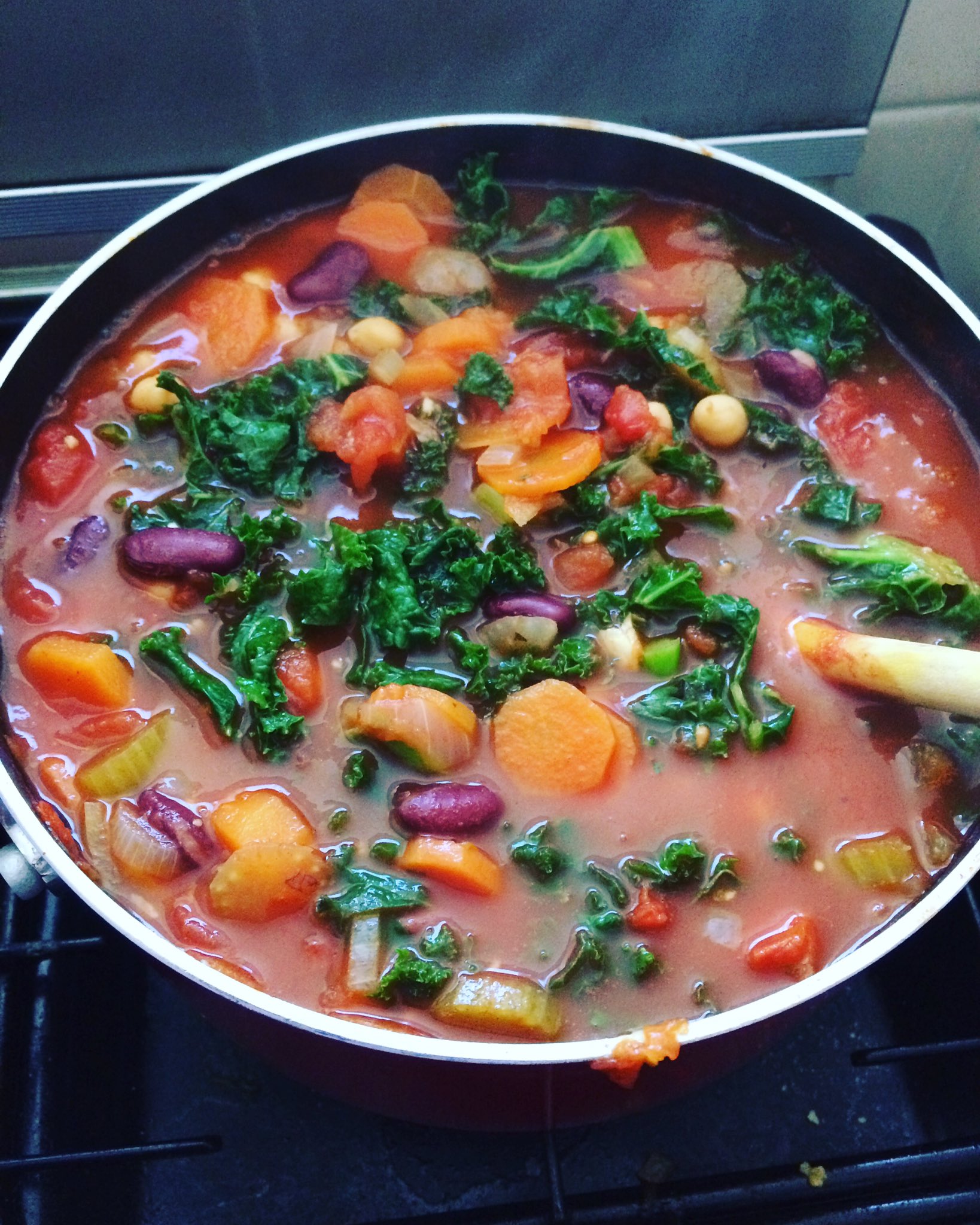 Picture of the finished product by HellsBells. Adapted with red kidney beans and chickpeas in place of Borlotti beans and kale in place of cavolo nero. Looks delicious and a fab adapation.
With thanks for the photo!