Really? Gin and tonic cake – good for you? Except of course it could make you slightly tipsy and put you on a bit of a sugar high…
We all know the old tales that spirits are good for you if you're ill. Now, we have moved somewhat away from that thinking, which in my mind is 'probably' a good thing.
What did surprise me is that there are a number of reasons gin can be good for you (albeit in moderation). This is what I came across in my research:
1. The main ingredient of gin is juniper berries. These are full of infection fighting qualities.
2. Juniper berries are also full of antioxidants and boost regenerating cells for smoother, healthier looking skin. Forget those anti-wrinkle creams….
3. On the spirits front, it's one of the least calorific at 97 calories per shot.
4. The lovely juniper berry has lots of lovely flavonoids which are great for preventing heart disease and improving blood circulation (note: too much of a good thing will be bad for you!)
5. Gin is said to be good for liver and kidney disease – who knew?
6. It can help relieve achy joints and gout.
7. The oils contained in juniper berries can alleviate coughs by expelling the mucus in the throat and aiding lung congestion.
So given gin is good, given cake is good – surely gin and tonic cake must be really good!
Just an aside, if you take this into work, you might want to leave eating it till really quite late in the day (and not if you're driving!) – it packs a punch of gin and sugary goodness.
4 eggs, weighed in their shells
equal weight of:
unsalted butter
caster sugar
self-raising flour
and:
2 lemons
8-10 shots of your favourite gin (a shot is about 25 mls)
dash tonic water (optional)
150g granulated sugar
Ensure that all your ingredients are at room temperature.
Preheat the oven to 180C/fan 160C/gas 4.
Weigh the eggs in their shells and make a note of the exact weight. Weigh out the same weight of butter and caster sugar and cream together until light, fluffy and pale.
Crack in the eggs, and beat until combined. Sieve in the flour, mix again, then grate in the zest of both lemons.
Stir through the juice of 1 lemon and about 4 shots (100ml or so) of gin.
Pour into a tin, lined with baking paper, of about 9 by 6 inches.
Bake in the centre of the oven for 45 minutes, or until the cake passes the knife test.
Remove from the oven.
Remove from tin after a couple of minutes, leaving the lined baking paper on the cake (otherwise the drizzle will go everywhere), and then set aside while you make the drizzle.
For the drizzle, combine the sugar, gin – 6 shots (150ml or so), tonic water and the remaining lemon juice in a bowl. After letting the cake cool for 5 to 10 mins, prick the surface with a fork, then slowly pour over the drizzle as evenly as you can.
Let cool and then EAT!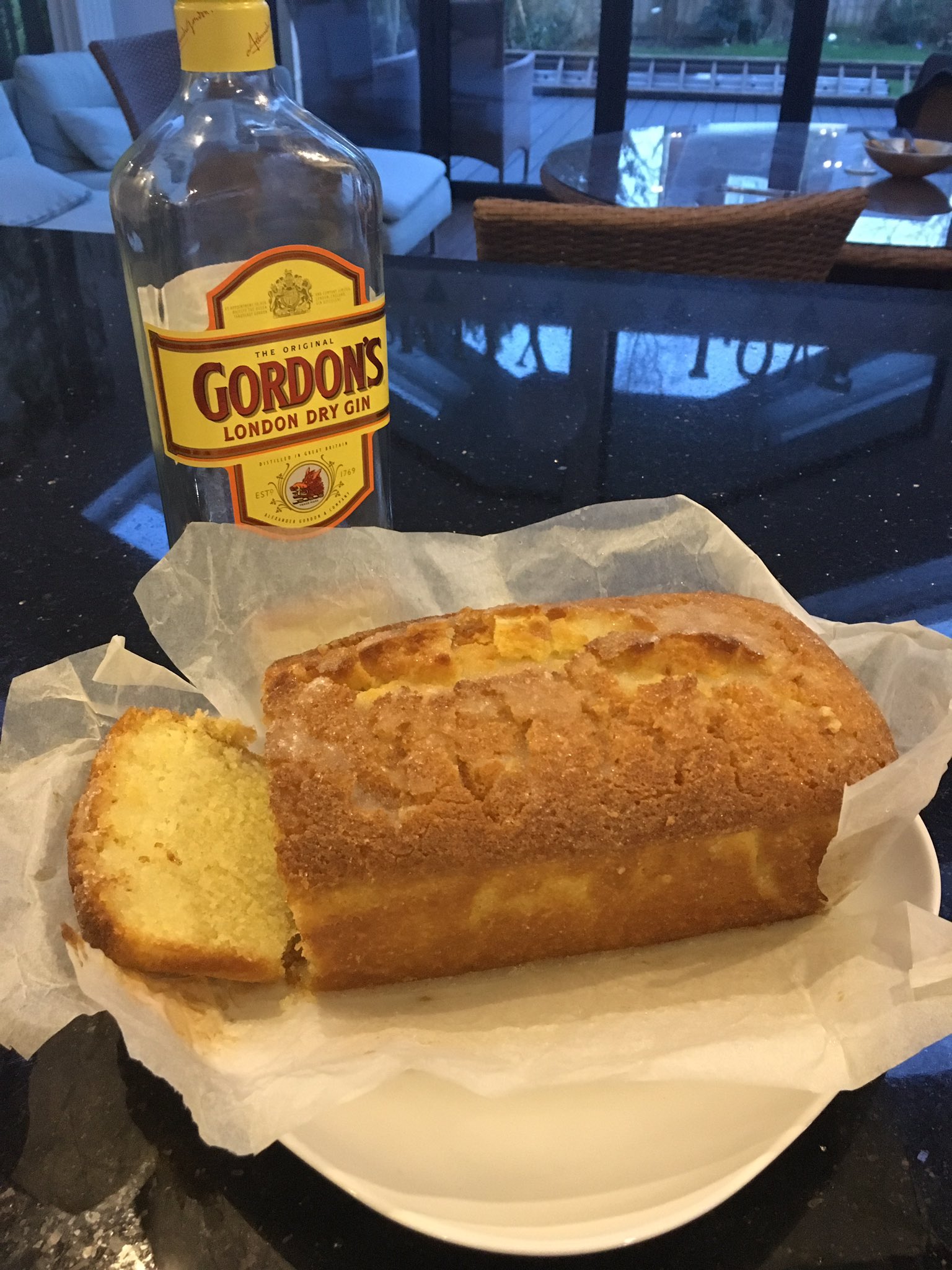 Picture of the finished product by Karen! Thanks for sharing!
Adapted from  Pudding Lane: Stories from a London Kitchen