Runners think a lot about food! And nutella and banana cake, it's something to think about.
Runners think about what's good for pre-running, during running, post-running and those  times we're doing other stuff.
So when thinking about a cake to make for running folk after a relay race, I did a little research on great food for runners.
It goes a little like this:
Chocolate – According to Runners World UK, it keeps you trim, it lowers blood pressure and it boosts your staying power
Bananas – Women's Running UK lists 5 benefits including: it gives you an energy boost, full of potassium, great source of manganese, helps beat PMS and helps you absorb other good stuff from food.
Hazlenuts – Runners World US include this nut amongst others in making the case for lovely little nibbles of goodness. They have the highest nut level of folate and have moderate levels of the good stuff to help lower blood pressure.
So surely nutella and banana bread has to be good for you!
4 large or 5 small overly ripe bananas
1 cup plain flour (all purpose flour)
½ cup sugar
1 tsp bicarbonate of soda
1 tsp baking powder
½ tsp vanilla
2 eggs, lightly beaten
100 grams of unsalted butter
2 tablespoons of milk
4 or so tablespoons of nutella (there's a variation at the bottom of the post which looks delicious)
Preheat oven to 180C/350F/gas mark 4
Line a cake tin of about 9 by 6 inches with greaseproof paper
Mash up the bananas with a fork or a potato masher, add the vanilla
In a separate bowl, put in all the dry ingredients, then  eggs and banana mash and mix
Melt the butter and then gently stir
And for the best bit, put the milk into the pan with the nutella and gently blend on a low heat. Once nice and gooey, stir in to the cake mix with big gentle swirls. Don't completely mix it in – this way you'll get lovely pockets of nutella goodness (or alternatively, poor the cake mix into the tin and then pour in the nutella mix – ensures a nice swirl in the final product)
Stick on a middle shelf in the oven for 40 to 50 mins or until golden brown and a metal skewer inserted into the middle comes out clean.
Remove from the oven and let cool in the tin for 30 mins or so and then put on a wire rack to cool completely.
EAT AND ENJOY!
From readers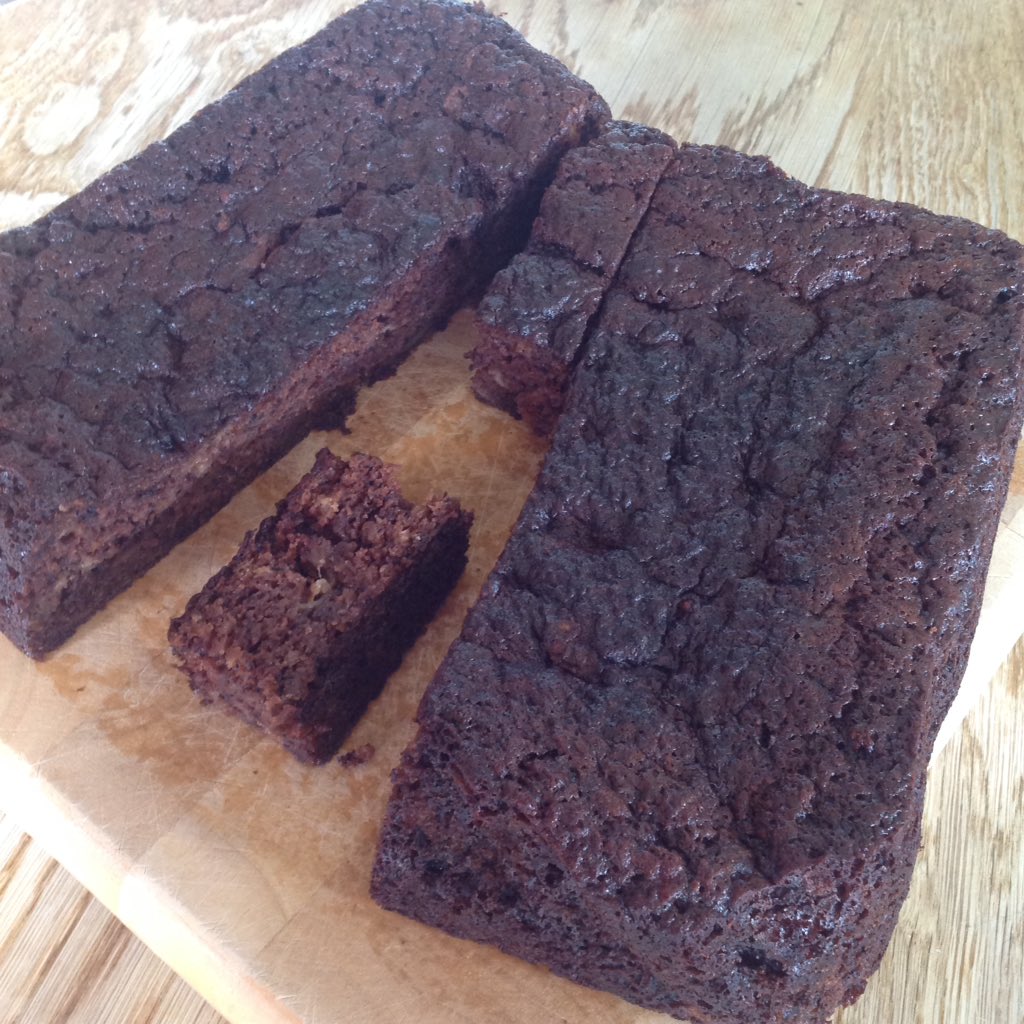 Josie's version of Nutella and Banana Cake, with thanks for sharing!
And with thanks to Stuart for this version of Nutella and Banana Cake. Go check out his blog here.
And this one's from Becs with a bit of a variation. The Nutella has been replaced with JimJams Hazelnut and Chocolate spread which is reduced in sugar, and a little mixed spice. I'm told is tastes a little like bread pudding. YUM!